Railway Signaling Equipment
Railway Signaling Equipment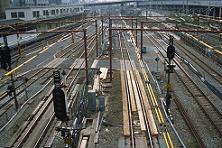 For
railways
we offer following solutions:
Automatic train operation system;
Train routing system;
centralized train traffic control system;
signaling and dispatching equipment;
If you are interested in cooperation in this field,
please contact us to get detailed information on our solutions.
Also we offer Intelligent Transportation Systems for urban traffic control.
Contact our Worldwide Marketing Department to ask a question or discuss business opportunity.
Copyright © 2004-2008 New Systems Technology, K.K. All rights reserved.